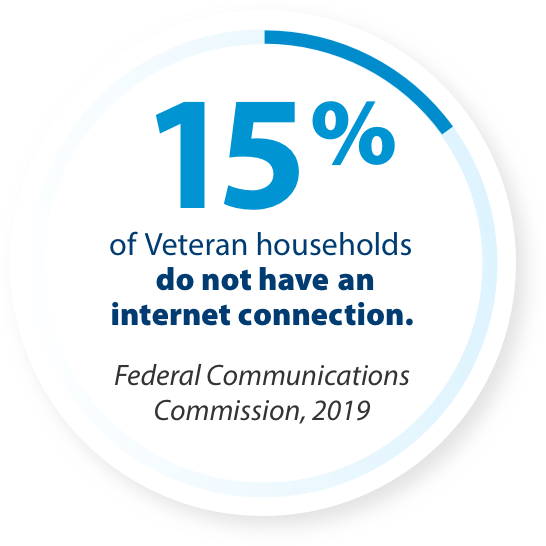 Get Connected
For Veterans who don't have internet service or an internet-connected device in their home or community, accessing telehealth can be difficult. VA is working to bridge this digital divide to ensure that all Veterans can access VA care where they are.
If you or a Veteran you know could benefit from VA telehealth, here are some of the ways that VA can help you get connected.
Digital Divide Consult
If you would benefit from video telehealth services but don't have internet access or a video-capable device, your VA care team can help through the Digital Divide Consult.
With the Digital Divide Consult, your VA provider can refer you to a VA social worker. The social worker can determine whether you are eligible for programs that can help you get the internet service or technology needed for VA telehealth.
For more information about the Digital Divide Consult, talk with your VA provider.
VA Internet-Connected Devices
If you don't have a device with internet access, VA can lend you an internet-connected tablet so you can reach your VA care team through telehealth. The Digital Divide Consult can help determine if you are eligible.
For more information, talk with your VA provider about the Digital Divide Consult.
Mobile Connectivity Support for Telehealth
AT&T, SafeLink by TracFone, T-Mobile, and Verizon help Veteran subscribers avoid data charges when using VA Video Connect on their networks. This enables Veterans to access their VA care teams through telehealth with fewer worries about data fees.
Visit the VA Mobile website to learn more about the mobile carrier programs and VA Video Connect.
Telehealth Sites in Your Community
Through ATLAS (Accessing Telehealth through Local Area Stations), VA is bringing telehealth care into Veterans' communities. ATLAS sites are comfortable, private spaces for Veterans to have video appointments with their VA providers. VA has teamed up with public and private organizations, including The American Legion, Philips North America, Veterans of Foreign Wars, and Walmart to create ATLAS sites in select areas of the country.
To see if there is an ATLAS site near you, visit the ATLAS webpage.
Internet and Phone Service Discounts
You may be eligible to receive a discount on your home internet or phone service through two Federal Communications Commission (FCC) programs: Lifeline and the Affordable Connectivity Program (ACP). The Digital Divide Consult can help determine your eligibility for both FCC programs.
Lifeline subsidizes the cost of home broadband and phone services. You can take part in Lifeline if you have a low household income or if you or a member of your household takes part in one of the following federal programs:
Federal Public Housing Assistance
Medicaid
Supplemental Nutrition Assistance Program (SNAP)
Supplemental Security Income (SSI)
Tribal programs
Qualifying VA pension
VA Survivors Pension
The ACP expands eligibility for home internet service discounts. Households can also receive a one-time discount to purchase a computer or tablet.
If you or a member of your household takes part in Lifeline or one of the federal programs listed above, you are also eligible for additional discounts through the ACP. You can apply for both programs.
Additionally, you qualify for the ACP if one or more members of your household meet any of the criteria below:
Earn an income that is at or below 200% of the federal poverty guidelines.
Participate in the Special Supplemental Nutrition Program for Women, Infants, and Children (WIC).
Are approved to receive benefits under the free and reduced-price school lunch program or the school breakfast program, including through the U.S. Department of Agriculture's Community Eligibility Provision, in the 2019–2020, 2020–2021, or 2021–2022 school year.
Received a Federal Pell Grant during the current award year.
Meet the eligibility criteria for a participating provider's existing low-income program.
Learn more:
Affordable Connectivity Program: Visit the White House website GetInternet.gov to learn about applying for discounted high-speed internet service through the Affordable Connectivity Program. You can also visit the ACP webpage or call 877-384-2575 from 9 a.m. – 9 p.m. Eastern time.

Lifeline: Visit the Lifeline website or call 800-234-9473 from 9 a.m. – 9 p.m. Eastern time.